Here's Why Your Website Visitors Are Not Converting into Customers
Getting traffic for your website is good. But,
converting that traffic into leads
(and finally into customers) is awesome! It's a game of rankings vs. revenue. The bad news is you can't get one without the other. The good news is it's possible to get both. A lot of
businesses focus too much on rankings
and traffic. But, they don't prepare for what comes next.
Once you start ranking on page one
of search engines – you will get a lot more traffic. People will visit your website. They might even call you, email you or fill out an enquiry form. They might sign up for your newsletter or download your eBook. Your traffic graph will see an upwards spike. You will be proud of your
SEO
guys. And, that's all. All this will be short-lived and useless if your leads don't buy from you. If lead conversion is an issue for your business, you are not alone. 74% of companies say converting leads into customers is their top priority. (Source: HubSpot)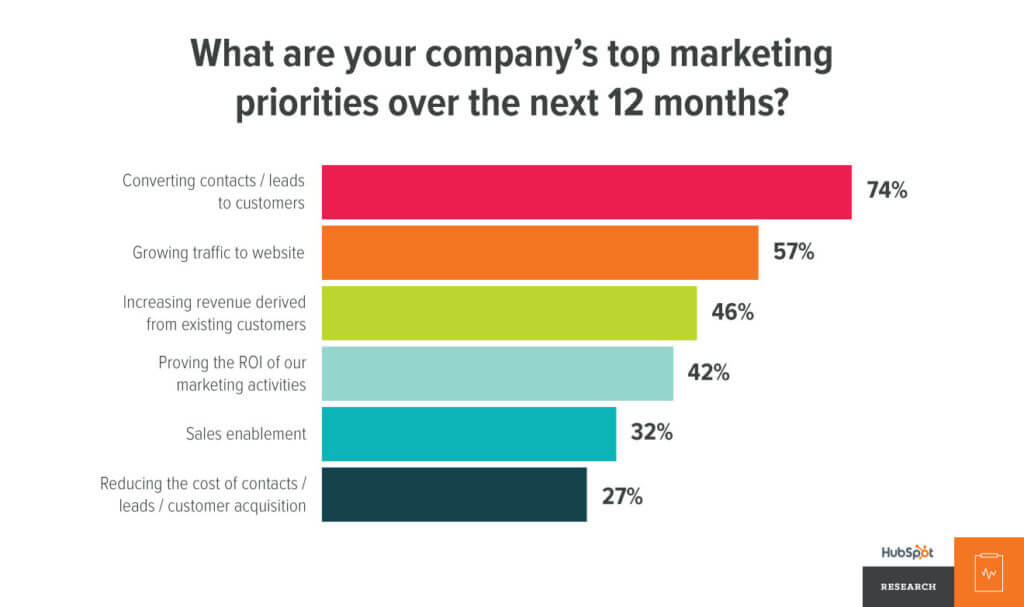 marketing priorities Rankings and website traffic are important, but they are not enough to make you money. Think, what else you need to convert your leads into customers? To make them pay, to make them happy, or to build a long-term relationship with them. WordStream conducted a
study
and found the average landing page conversion rate was 2.35%, yet the top 25% are converting at 5.31% or higher. So, what can you do to get a high conversion rate from your website? In industry terms, it is called CRO which means Conversion Rate Optimisation. The focus is revenue over rankings. Let's take a look at things you might NOT be doing.
#1 You not solving their problem
Let's say, you run a food delivery service and I am your potential customer. It's raining outside. I am hungry. I want to order a pizza. My pain points are rains, hunger and timely delivery. I might be okay paying a surcharge for this service due to rains, but I don't want to stay hungry. If I land on your website, ideally, I want to know:
Are you open to deliver a pizza right now (even in this weather)?
Can you deliver it to my location?
How fast can you deliver?
Are you my best option for this service?
But, instead of getting these answers, if I see your business history, experience and qualifications of your team members – I will probably bounce off. On top of that, if you force me to create a login with too many details – I am never coming back for your service.
What is the solution?
Customers want convenient, cost-effective, and timely solutions to their problems. If I am looking for a 'pizza delivery near me.' I want a pizza to be delivered at my doorstep. That's the solution I need. Simple. If you can give me that service, I am ready to pay you. Look at this landing page from Dominos, they know you are here for a pizza (or other food options). So, they are immediately showing you the path to order: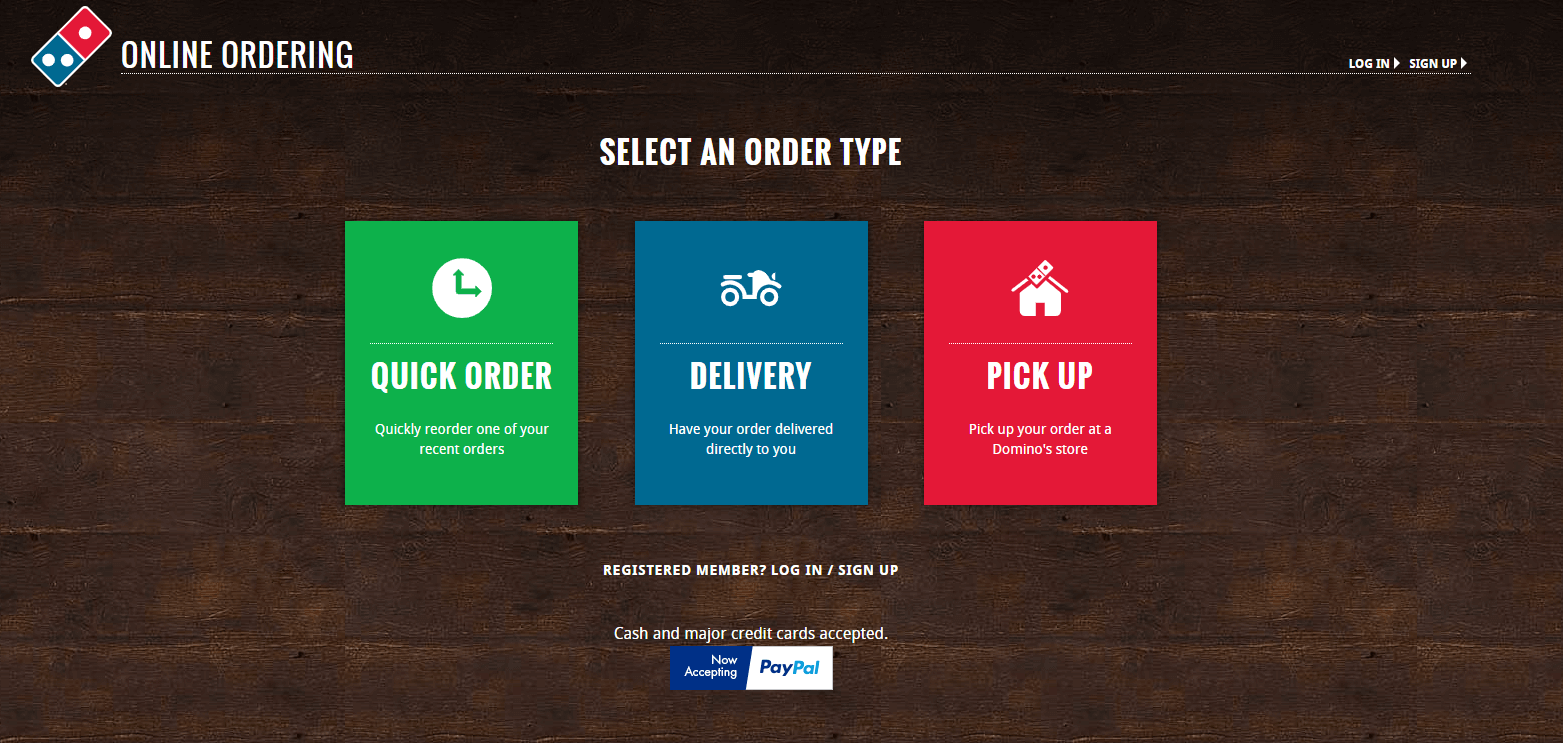 If you are a product – consider having a demo video on your website. It's a great way to answer many questions at once. If you are a service, a well-written FAQs page can be great to answer common customer doubts.
#2 You are asking them to make too many efforts
The other day I was looking for a price quote for roller blinds. I shared my floorplan through email and most of the companies replied with an estimate and later called me for a follow-up. Sweet. One company directly called me and asked for a meeting with their sales guy. Their intentions were good. It's a fact that it's harder to say no to someone in person. So, they have more chances of conversion. BUT, a big fat BUT. They had a few conditions. They can do this meeting only between Monday to Friday, 9 am to 5 pm and the meeting should happen at the property where I want the roller blinds to be installed. (So, they can immediately take measurements and bill me). Phew! Basically, they were asking me to take a day off to hear their sales pitch. That is too much to ask for.
What is the solution?
Look at this web form, it looks huge and time-taking. Even though the fields are relevant, the design looks so scattered and overwhelming to fill.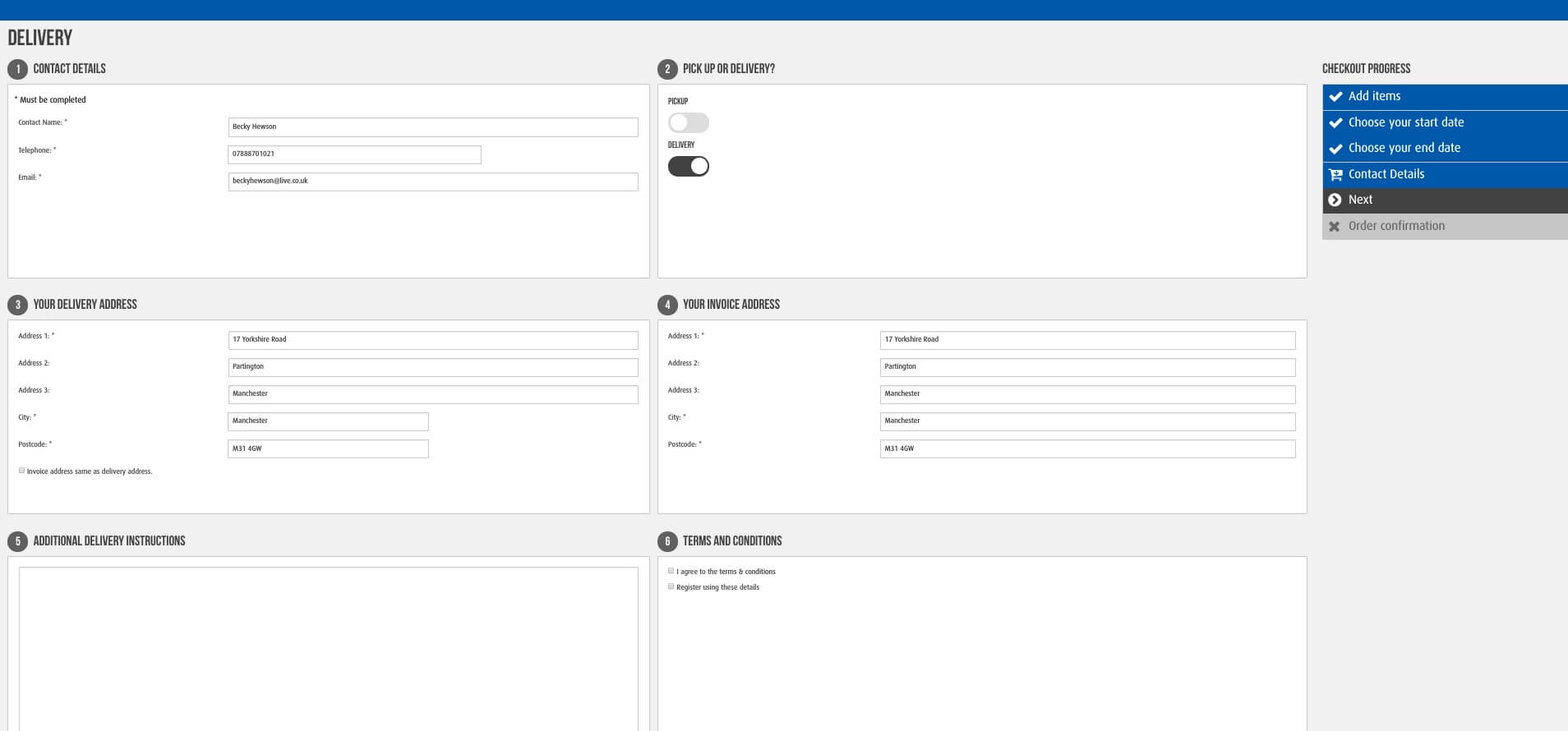 If your website visitor has shared their phone number or email address with you – that means they found you and they are impressed by what they saw. Now, you need to make it really easy for them. You know what they are looking for – don't waste their time. Suggest them the easiest and the fastest solution. Most importantly, make it convenient for them, like offer a home visit, discuss it over a video call, send them free samples, or your catalogue. Do whatever suits them best. It is a proven
fact
; inbound leads have much higher chances of conversion. So, don't blow your chance of getting a sale.
#3 You are talking to bots instead of humans
I landed on your website, maybe from social media, Google search, or a referral site. That's not important here. What's important is where will I go from here. Any website visitor is a potential lead and probably a customer. But, many websites blow this opportunity when they throw tons of jargons and buzzwords for their visitors to crack. This doesn't make you sound posh, it just makes you unapproachable. I will immediately disconnect if I don't understand the complex and technical language on your website. Eugen Eşanu, the founder of Laroche.co, wrote an
amazing post
about -Product Design: Expectations vs Reality. He rightly explains, what website content SHOULDN'T be: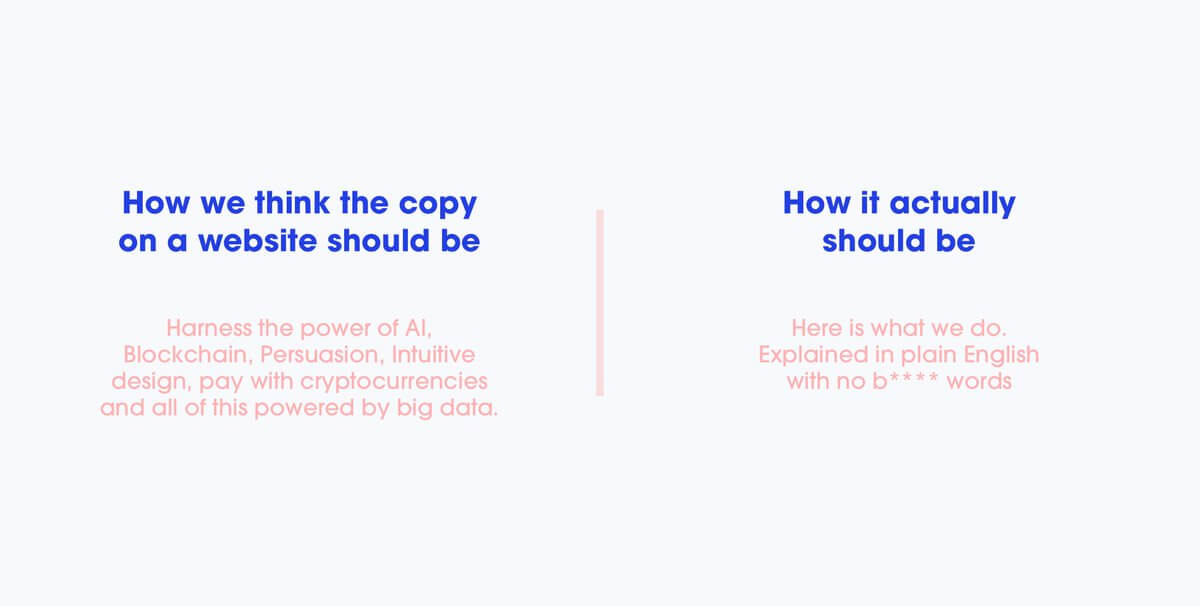 Artificial intelligence and chatbots are great, but first, we are humans. Any human being won't buy from you if they can't understand what you are selling. Margaret Magnarelli, VP marketing, Monster,
said this
when asked about one thing in content marketing she wishes would die, "The hype around AI in marketing. There's a role for it (e.g., machine-generated standardized blurbs on your website pulling from APIs), but if we want to connect with customers, we need to employ as much of a human touch as we can."
What is the solution?
It's OKAY if your content sounds simple, as long as it explains clearly what you do and how you can help your customers. Your website visitors are looking for a solution. Don't confuse them. Talk to them like human beings, like you will talk to a friend while having a conversation.
#4 You are not building enough trust
Customers are anxious while making a purchase decision and they look for signs to confirm their purchase. They want to be sure that they are making a good decision. Such signs on your website also indicate that you know your stuff and you are best at it. A
study
says, displaying reviews can increase conversion by 270%. Another
one says
, 88% of buyers are influenced in their buying decision by reviews. There are hundreds of other studies saying the same thing. Bottom line is, if you are asking for money before showing value – your visitors might get distracted. Testimonials, customer reviews, social profiles, case studies, accreditation, awards etc. all work as trust signals for your website. Of course, all the good and positive ones. Even a simple seal, certificate or a partner logo can work in your favour. Take a look at this graph from WordStream showing trust signals that people trust: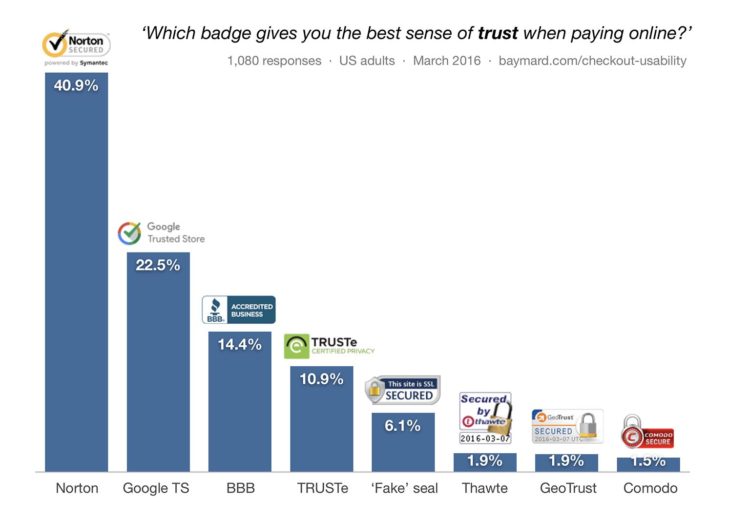 What is the solution?
There are many trust signals, use the ones which work in your industry. For example, for an e-commerce website – having a seal of secured payment gateways is really important. Similarly, case studies work really well at the enterprise level. Getting featured in the press is also really cool nowadays and work as a great PR opportunity. Here are a few
elements that help build trust
on your website:
Satisfied customers and their testimonials
Social profiles
Case studies
Blogs
Full contact information
Memberships/ partnerships
Press features
Money back guarantee
Secured payment gateways
Google trusted stores
Final Words
The visitor-to-sale website conversion rate is as low as 2-3
%
 and only 10% landing pages have a conversion rate of 11.45% or higher. (
Source
) Considering how hard businesses are trying to bring visitors to their website, these conversion numbers are quite low. Your website's slow loading time, bad mobile experience, missing call to actions and shabbily written website content can be a few other reasons why your visitors are getting annoyed and exiting your website immediately. Get
professionals to help you with your website design, content, and even site interface
. Start by making
small changes
and test them through A/B testing. Keep a detailed view of what's working and
what's not working for your website
. See how your website visitors are reacting to each change. Remember, with each visitor exiting your website – you are
losing a potential sale
. So, better buckle up!