eMarket Experts Among Australia's 50 Fastest-Growing IT Companies
We are ecstatic to share that eMarket experts have made it to CRN's 2018 Fast50 list! This means CRN has recognised us as one of the fastest-growing companies in the Australian IT channel. We are extremely proud to bag a position among the top 50 Australian IT companies.
CRN Fast50 acknowledges the fastest-growing Australian companies within the IT industry, based on year-on-year revenue.
Rashesh Shah, CEO of eMarket Experts believes this success has come from our focus to deliver the right marketing solutions to our clients. We will continue to work collaboratively with our clients to maximise growth opportunities.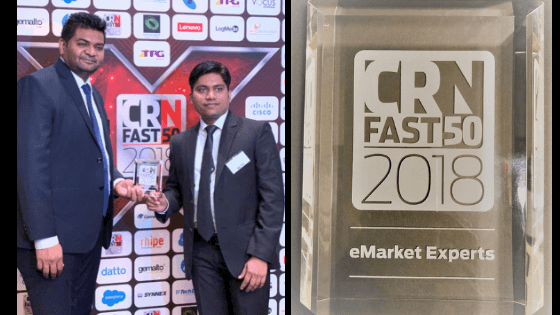 Simon Sharwood, Editorial Director, CRN congratulated the winners and said, "That entrants continue to accelerate tells us a lot about the IT industry's ability to reinvent itself and add new value to the businesses it serves."
He also highlighted a few numbers and said, "This year's Fast50 was the fastest yet: entrants posted an average growth rate of 87.1%, up from 2017's 85.3%."
All we can say is a big thank you to our clients, stakeholders, and a wonderful team! We will continue to strive and deliver the best digital marketing solutions to all our clients.
Onwards and upwards!