A Complete Guide to Digital Marketing in the Retail Industry
The retail industry is now more competitive than ever. With thousands of Australian businesses trying to take advantage of the post-pandemic economic growth, it can be extremely difficult for a small retailer to stand out. Even businesses with innovative products and superior customer service can fade into obscurity if they're not able to capture the attention of their target market.
To survive in the retail industry, you need to have a professional digital marketing campaign that is focused on retail-specific strategies. These strategies may involve creating a well-designed ecommerce site, expert onsite optimisation, producing quality SEO content, and running a targeted social media campaign.
There is no doubt that digital marketing has changed the retail industry in many ways. According to an ecommerce industry report by Australia Post, Australian online spending amounted to $27.5 billion in just 2019 alone. In that same year, the growth of online spending outperformed traditional brick-and-mortar retail by 16.2%.
In addition, plenty of customers tend to begin their purchasing journey online when researching various products. So, even if the majority of your sales are in-store, having a digital presence is still essential.
That being said, it can be tough for small retail businesses to keep up with new online marketing trends. New digitals channels are appearing out of nowhere, existing channels are beginning to merge, and algorithms are constantly changing.
However, if you want to succeed, you'll need to face this challenge head on.
To help you out, we're created a starter guide to digital marketing in the retail industry. By optimising your digital presence, you'll be able to improve online visibility, increase brand exposure and widen your sales funnel. With the right digital tools, you'll be able to target specific demographics and gather valuable data on your customers' shopping habits. This includes customers that show high purchase intent.
Different types of digital marketing in retail
Before we get too deep into specific strategies, it's important to make a distinction between digital marketing and online marketing. Digital marketing refers to any marketing strategy that involves digital technologies, and can be deployed in-store, in public or online. This includes the use of mobile apps, QR codes, billboards and digital media, e-coupons and so on.
Online marketing, on the other hand, is a subset of digital marketing but is entirely focused on the use of internet assets. E-commerce sites, social media pages, SEO and online advertisements are common assets that a lot of successful retailers use.
In addition, there are also significant differences between ecommerce marketing and brick-and-mortar retail marketing. Brick-and-mortar strategies are primarily focused on encouraging your local audience to visit your physical store. Such strategies might involve geotagging, improving local SEO, using convenient digital POS systems, and distributing e-vouchers.
On the other hand, ecommerce marketing is all about getting your customers to visit your online store as often as possible. This primarily involves optimising your product pages, using targeted ads for specific products, sending reminder emails about abandoned carts, and working with various online influencers.
The strategies that will be relevant to you will depend on the type of store you're running.
In this guide, what we refer to as digital marketing will largely fall under the category of online marketing. That is, the strategies that we'll discuss will primarily be focused on helping you build a strong online presence.
That being said, it's good to keep these basic distinctions in the back of your mind as you read through our guide.
1) Build a trustworthy and responsive website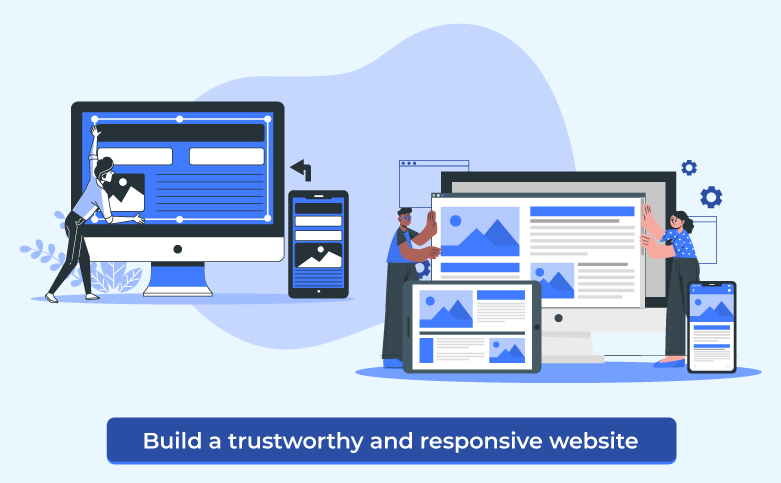 Your website is your digital storefront. It's what people look at to see if your business is worth buying from. Just as real-life customers are put off by a disorganised brick-and-mortar store, online shoppers can be deterred by a website that is poorly designed. A subpar website design can lead to increased bounce rates, reduced conversions and a lower SEO ranking. It can also affect your company's reputation, making it more difficult to build consumer trust.
So, when it comes to building a reliable and trustworthy site, there are a few things that you need to consider:
First, it's essential that your ecommerce site is optimised for UX/UI (user experience and interface). This means having an online store that is well-categorised and easy to navigate. This will allow customers to quickly find what they need, making them more likely to buy from your store.
Additionally, you need to display all the product information that your customers might need. For example, if you're selling clothing, you need to have multiple product photos, stock numbers for each item, sizing charts, colour variations, information about the materials and so on. Details about payment and shipping options are also essential
Here are a few key features of an ecommerce site with good UX/UI design:
Personalised/customisable user interface

Simple and easy-to-navigate landing pages

Convenient and functional product search

Intuitive checkout process

Multiple high-quality products photos (with in-scale photos if appropriate)
You also need to ensure that your site is optimised for mobile use. In the previously mentioned report from AusPost, it was found that there was a 28.8% growth in online mobile purchases in 2019. Other reports predict that mobile commerce sales will continue to increase in the next few years. To make sure you don't lose out on 'mcommerce' sales, you need to create a website that's optimised for mobile browsers and/or develop a mobile app for your business.
Not having a mobile friendly site can also affect your search rankings. As such, you need to make sure that your site is optimised for mobile SEO.
Here are a few ways to optimise your website for mobile devices:
Apply custom CSS elements for responsiveness

Use mobile-appropriate themes and plugins

Easy checkout process on smartphones and tablets

Streamline your content (i.e., reduce large blocks of text and use negative space efficiently)

Reduce loading times
Lastly, it's important to convey trust signals throughout your site. One of the biggest trust signals for ecommerce stores is site security.
Ecommerce security ensures that your customers' personal data (i.e., name, address, and credit card details) is protected from unauthorised access. Proper site security also protects you and your patrons from phishing, information theft, malware, and other forms of cyberattacks.
The four pillars of ecommerce site security are:
Privacy – preventing data breaches and loss of client data by implementing anti-virus, firewall, encryption and other security measures
Integrity – ensuring that data remains secure and unaltered, either by the retailer or by unauthorised third parties
Authentication – ensuring that both the business and the customer are who they say they are
Non-repudiation – ensuring that all transactions are verified and properly authenticated
Key security strategies include:
Implementing multi-layer security

Ensuring Secure Server Layer (SSL) Certificates

Installing solid firewalls

Installing anti-malware software

Compliance with PCI-DSS requirements
2) Establish a social media presence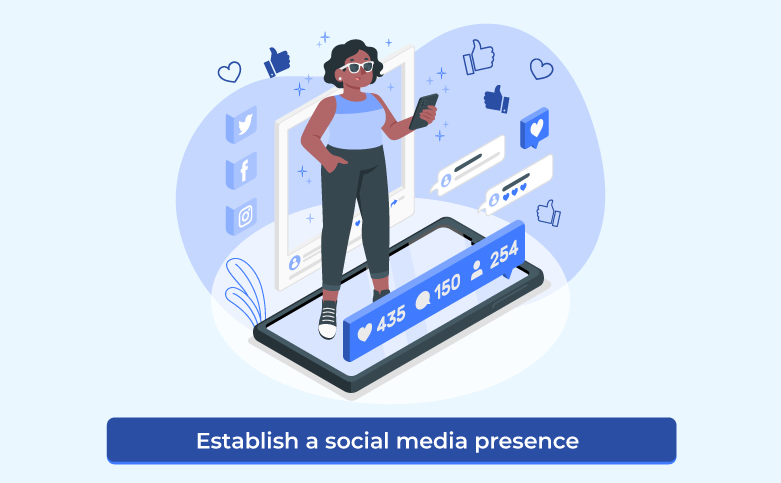 Billions of people use social media every single day. This is a huge market that you need to be able to reach if you want to be successful in retail.
According to Insider Intelligence, 34% of a 1,730-participant pool (ages 18-75) said they make retail purchases via Facebook. Additionally, 17% said they purchase products through Instagram and 16% said they purchase products through YouTube.
More importantly, as per Hootsuite, 52.3% of females and 47.4% of males between the ages of 16 to 24 use social networks for brand research. So, if you're targeting a younger demographic, it is essential that you have great social media presence.
Developing a social media strategy
The first step in developing a social media strategy is to identify your target audience. Are you looking to sell to businesses, homeowners, students or high-income individuals? Are you targeting a local demographic or an international audience? Having a good understanding of your target market will help you come up with a focused and streamlined social media strategy.
As an example, if you're trying to promote cost-effective retail products to local university students, apps like TikTok and Instagram should be your main focus. TikTok in particular is great for local businesses as it tends to promote content based on geographical proximity. Geotagging and using community-specific hashtags are essential in a winning TikTok strategy.
For audiences over the age of 35, however, this type of marketing might not be as effective. If you're looking to promote to an older demographic, organic posts or paid ads on Facebook and LinkedIn might be more suitable. Additionally, search engine ads might also be useful depending on your product.
Your budget is also an important consideration. If your resources are limited, you may want to focus on only one or two social media sites. Additionally, you also need to think about whether or not ad spending is suitable for your products. There are studies that suggest that younger demographics tend to be more averse to paid ads on social media. So, if you're targeting younger customers, you'll likely benefit more from organic posts than paid ads.
Complementary social media strategies
Another way to establish your social media presence is through influencer marketing. This is when you partner up with popular social media personalities and get them to promote your products to their loyal followers. One of the reasons this works so well is because influencers tend to have a close parasocial relationship with their viewers. Their followers trust them and therefore are more likely to trust brands that they promote.
Influencer marketing is also very valuable for international retailers. If you're able to partner up with overseas influencers, you can easily promote your products worldwide.
Other social media strategies include regularly creating engaging short form video content (e.g., TikToks and Instagram Reels), following trending memes, and directly engaging with your audience via live streams or comments.
How to manage different media channels
Once you have a decent social media strategy, you should also consider omnichannel marketing. This is when you stay connected to your target audience using various forms of media. Omnichannel marketing allows you to keep track of your customers' behaviours. This information can be used to develop strategies to increase customer retention.
For example, if someone recently created an account on your ecommerce store, you could send them an SMS message about discounts or deals. After a while, you can also send them a reminder email about a product that they've put in their cart. If there's still no conversion, you could even set targeted ads on social media about certain products that they've shown interest in.
Automated chatbots (on Facebook Messenger and on your website) are also important. These bots allow the customers to get the product information that they need in a short amount of time.
It needs to be noted that ignoring your social media channels (or any communication channel for that matter) can also cause your customers to lose trust. If you're too busy to answer customer queries or concerns, it might make your business seem distant and unresponsive.
Since there are so many things to deal with when it comes to social media, a lot of businesses prefer outsourcing the job to a reliable digital marketing agency. Having a team that's dedicated to social media will ensure that everything is properly taken care of in a timely manner. It will also free up more time for you to handle other parts of your business.
3) Choosing SEO keywords for retail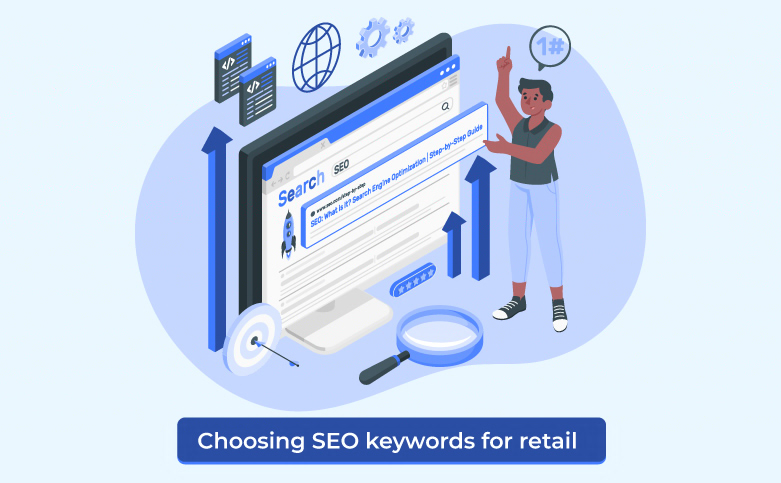 Keyword research is important for all retail businesses. It allows you to gain an insight as to what your target market is searching for on Google. If you know the keywords that your customers are searching for, you'll be able to tailor your SEO content to those keywords and show up at the top of the search results.
Here are a few benefits of proper keyword analysis:
Allows you to gain an insight on what's trending

Can increase your conversion rate

Helps you understand what type of content engages your audience

Helps you streamline your SEO and content strategy

Makes your PPC ads more effective
Good keyword selection will also allow you to reach your customers at specific points of the sales funnel. To choose the right keywords, you will need to categorise potential SEO terms into four main categories.
These categories should be based on the customer's purchasing journey:
Informational keywords: used by customers looking for general information about a product that they're interested in
Navigational keywords: used by customers looking for a specific page or website that sells a particular product
Brand keywords: used by customers looking for a specific brand
Transactional keywords: used by customers looking to buy a product
If you know where in the purchasing journey a certain customer is at, you will be able tailor specific pages of your website based on what that customer is looking for. For example, you can optimise an educational blog based on informational keywords. You can also optimise a product page based on brand and transactional keywords.
Giving the user exactly what they're looking for can improve your customer retention and overall conversion rate.
4) Use pay-per-click ads for specific product searches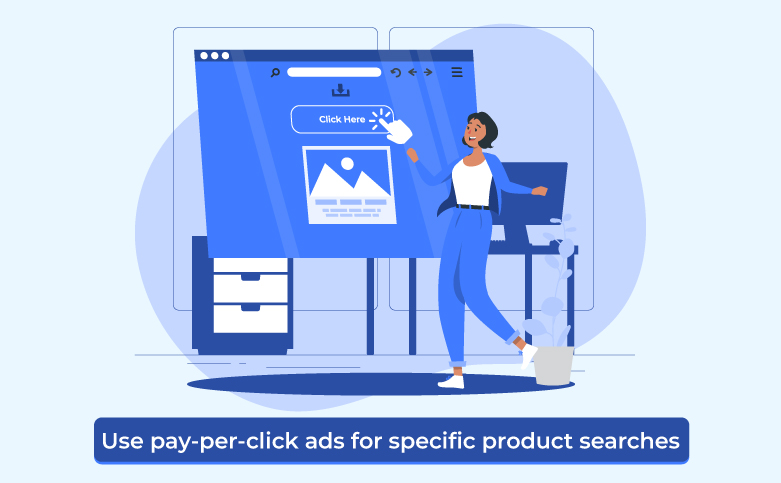 PPC (pay per click) ads are the ads that appear at the top of the search engine results when a related keyword is searched. These ads usually appear before organic search results and are therefore extremely important for businesses looking to improve their online visibility.
As the term suggests, you will need to pay money to run these ads. Each time a user clicks on your link, you will need to pay the relevant search engine (Google, Microsoft, or Yahoo!) a set amount of money. This number will be based on the maximum amount of money you're willing to pay for each click, also known as your maximum bid.
Why it's important to retail
Since PPC ads are based on keywords, it's important to choose them carefully. PPC ads are extremely useful if you're looking to target high-intent search phrases.
In the retail industry, this is beneficial as it allows you to bid on search queries that directly relate to the products that you're selling. The more specific the search query, the higher the intent, and the more likely you are to get a conversion. The more conversions you get, the more justified your maximum bid becomes.
For instance, let's say that someone is searching 'hair extensions' on Google. The phrase 'hair extensions' is so broad that it could have all kinds of intentions behind it. Someone could be looking up ways to maintain hair extensions or someone could be looking for a hair extension company to partner up with. If you bid on this broad search query, you're likely going to reach a lot of people who aren't looking to buy extensions at all. This can lead to a lower conversion rate.
On the other hand, if someone looked up '12-inch human hair extensions', it's highly likely that this person is ready to buy the product. Because of this, you have a better chance of getting a conversion. Signs of high-intent searches typically include specific sizes, brand names, colours, and grades.
Here are some of the other benefits of PPC ads:
Maximum bids can be set to suit your budget

You'll see conversions in a short period of time if done properly

You can improve online visibility and brand awareness

Allows you to target specific and qualified leads
5) Use Google reviews to your advantage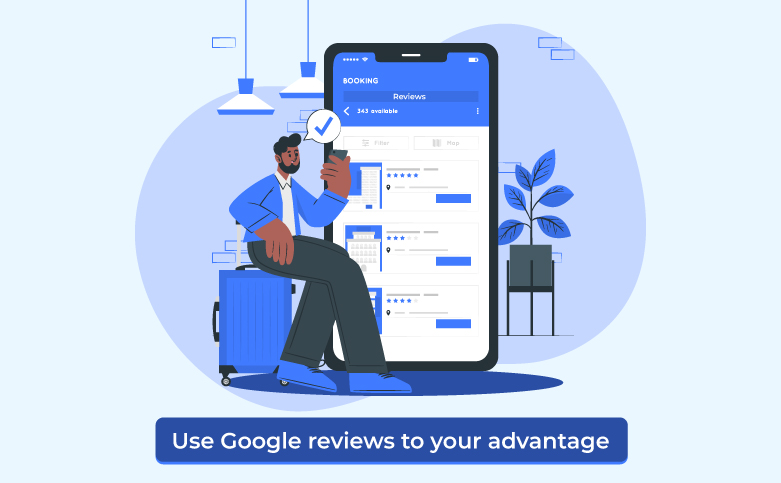 Chances are, your company doesn't have a recognisable name like IKEA or Apple. Because of this, you need to show your customers that your company is trustworthy through Google reviews.
It's no secret that most users check the Google rating of a company before they purchase a product. If you have good reviews, users are more likely to visit your site. Positive reviews are said to also boost your visibility in organic searches and mapping services.
In addition, reviews can help you promote your products further. If you sell clothing, for example, most reviews will mention things like sizing, quality of material, longevity and so on. You can use this to your advantage and further emphasise the selling points of your items.
It's essential that you encourage Google reviews from your customers. This is because most customers are unlikely to leave a review even if they're satisfied with the product.
The best times to ask for reviews are right after a sale, when you send the bill, or when you have just finished an interaction with a customer either in-person, on the phone or through email.
Your goal should be to continually improve your products and to show your customers that you care about their experience. To convey this to your patrons, you should respond to both positive and negative Google reviews.
For negative reviews, you should take the opportunity to clarify certain things about your products, policies, and future plans. For example, if a negative review points out packaging faults, make sure to address it in your response. You can mention that you appreciate the feedback and that you will be working hard to rectify the issue. While it's never fun to read criticism, being transparent in your response will build customer trust in the long run. For positive reviews, you should aim to be as specific and as personal as possible.
As per the Neil Patel blog, Google also uses the review system to determine local SEO rankings. As such, you should also use your review responses as an opportunity to further emphasise relevant search phrases.
Final Word
Digital marketing tools have given retail businesses the opportunity to know who exactly they're selling to. Knowing the age range of your audience, their shopping behaviours, and their interests can really help you streamline your online marketing strategy.
If you noticed, most of the strategies mentioned above are about being deliberate in your marketing pursuits. In the age of the internet, you can now target very specific groups of people using insights and analytics. Efficient and streamlined digital marketing strategies will not only lead to increased conversion rate, but they can also save you a lot of money in the long run.
As your business grows or during busy retail periods like Christmas, the more complicated your online marketing requirements will become. You will need to manage multiple channels and have your hands in various forms of digital content. Because of this, it's important to have a dedicated team of professionals to handle all your online and digital marketing needs.
With the right online marketing team, your business can see steady growth in this fickle digital space.