Online Chatbots for Ecommerce
The global consumer retail spending via chatbots is estimated to reach $142 billion by 2024, up from just $2.8 billion in 2019. That's a more than 50-times increase in ecommerce sales, and you might miss all of it if you're not using chatbots for ecommerce. Read on to find out why the best digital marketing agencies are increasingly recommending chatbots for their ecommerce clients.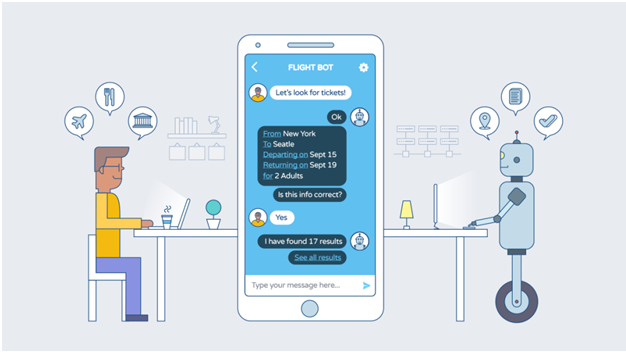 Fact:
Australia is among the countries that report the highest levels of chatbot usage, with
more than 70%
of respondents having used one to interact with a brand in the past year.
What Are Online Chatbots
An online chatbot, simply put, is an AI-based computer program that can chat with online users in a way that simulates interaction with a human. Chatbots have been around for a number of years, but their adoption has spiked in the wake of COVID-19. Just as the pandemic forced us to stay at home and do almost everything online, our dependency on messaging apps increased phenomenally. WhatsApp usage, for example,
increased 40%
. The deluge of chat inquiries sent online businesses scrambling to look for automation. The bots were waiting.
What Are Chatbots Used For?
AI-assisted online chatbots are being used for a range of applications, from ordering pizza, booking a hotel room, answering customer questions about a particular product, right down to providing tier-1 customer support. Chatbots enable ecommerce companies to instantly respond to customer issues on multiple platforms, including Facebook, WhatsApp, and their online store.
Benefits of Customers
Chatbots help provide a smooth and swift customer experience by eliminating waiting times and accelerating issue resolution
It's nice to see someone online at 2 am to assist you with a purchase, even though you know it's a bot
Research out of the United States depicts most people (62%) like using chatbots to converse with businesses.
Benefits for Ecommerce Businesses
Chatbots never sleep, need no salary, and are always online
You can offer 24/7 live chat support by integrating a chatbot into your store
The bot can answer important customer questions that, if not answered, might lead to website abandonment
Today's round-the-clock chatbots can even use AI to infer customer intentions and create a personalised shopping experience.
Chatbots free up your human resources from repetitive low-value tasks allowing them to focus on more important activities
They help increase sales by providing more clarity and a delivering a smoother shopping or customer support experience
How Do I Build a Chatbot Strategy?
If you're not already using chatbots, you can start by creating a chatbot strategy. There are primarily five strategic levels for using chatbots in ecommerce. Where you start depends on your business needs, where you are on the automation trajectory, and where you want to go. Let's take a quick look at the five ways you can use chatbots in ecommerce.
Level 1: Autoresponder Chatbot
This is the level where you can easily start if you haven't soaked your feet in automation yet. Whenever someone messages you on a chat app like Messenger or WhatsApp, the autoresponder simply responds with a fixed message irrespective of the user's input. Facebook Messenger and WhatsApp for Business natively allow you to set up an autoresponder without requiring any third-party tools.
Level 2: Notifications Chatbot
You can expand your chatbot's capabilities by connecting a chatbot platform like ManyChat to your Facebook page. This allows you to build your chatbot list, which is similar to a mailing list. You can then send out automated notifications to people on your chatbot list anytime you have an announcement, such as a new product launch or a special offer. It's a step above autoresponder, but the level of automation is still basic.
Level 3: Sales Funnel Chatbot
The third level of chatbot automation works like a digital marketing funnel, but here you're using messaging instead of email to follow up with customers who subscribe to your Messenger list. This level is as far as most ecommerce businesses go in their chatbot strategy. However, you should have a way to continue adding value to your chat channel and generate ongoing engagement, which is the next level in your chatbot strategy.
Level 4: Ongoing Engagement Chatbot
In this level, you segment your chatbot list and target users with personalised messages that bring them the value that they need. You should have a strategy to keep users engaged after they have opted in for your sales funnel. It can be a weekly YouTube video, podcast, blog post, or newsletter. More importantly, you're looking beyond a few short-term campaigns at an overarching chatbot strategy that supports your business on multiple channels and business functions, including sales, marketing, customer support, and operations. Finally, you can also integrate this level of chatbot strategy with your CRM and set up rules and workflows. This level can also work with your email marketing program such as MailChimp, booking system such as Clandely, and meeting platforms such as Zoom.
Level 5: Artificial Intelligence (AI) Chatbot
This is the next level for you if you already have your ongoing engagement chatbot supporting multiple areas of your business. Now you can connect your chatbot to an
AI development framework
such as Wit-AI, Dialogflow, or Chatterbox. You can train your robot and make it smarter. It will be able to answer questions dynamically based on the user's intent and context, rather than depending on a fixed pre-programmed input.
Conclusion
Chatbots are an extremely cost-effective strategy for small and medium ecommerce businesses to enhance their image, increase their sales, save time and money, and look better than their competitors. If you still haven't bothered with chatbots, you might need to very soon because chatbot retail sales are expected to skyrocket over the next few years. Facebook Messenger and WhatsApp for Business may be the best places to start building a simple autoresponder or notification chatbot. From there on, things get complicated so you might need to work with a professional
digital marketing agency
. To find out more about how to turbo charge your digital marketing, check out our
guide to digital marketing for retail
.