eMarket Experts Listed Among the Fastest Growing Companies in the Asia-Pacific
We're proud to announce that eMarket Experts has been listed on the Financial Times' Asia-Pacific High-Growth Companies. Once again, our ongoing growth and positioning as one of Melbourne's most innovative digital agencies has seen us recognised as an industry leader.
Coming in at 224 on the list, our ranking places us in the top 50% of high-growth companies across the entire Asia-Pacific and the eighth-fastest growing marketing company in the region.
The Financial Times list ranks companies from across the Asia-Pacific by compound annual growth rate in revenue between 2015 and 2018.?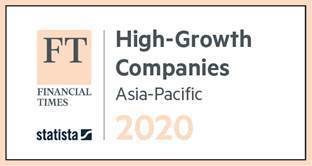 While we are thrilled with the result, it goes without saying that this is a tough time for businesses in Australia and across the world. The economy has stalled as a result of the coronavirus pandemic and it will be a slow rebuild to reach pre-2020 levels.
While the Financial Times rankings don't take into account the unfolding economic downturn, they do place a spotlight on those companies best positioned to weather the current crisis.
Speaking about the listed companies, the Financial Times notes "the most nimble and creative will approach the crisis as a catalyst for innovation and in the medium term could strengthen their positions in their respective markets."
"It's a difficult business climate for everyone right now," says eMarket Experts CEO Rashesh Shah. "But more than ever, our clients are realising the value of an expert digital strategy to ensure online visibility and put them in the best possible competitive position when the economy bounces back."
"And while we do expect our growth to slow through 2020," notes Shah, "Our strong growth fundamentals and our culture of digital innovation ensure that we can continue helping our clients work through this difficult period and come back stronger than ever."
The entire eMarket team would like to take this opportunity to thank our clients and partners, without which our ongoing growth and success would not be possible.