Using SEO to Adapt to COVID Business Conditions
SEO and COVID-19 may not seem like the perfect partners, but the fact is SEO is more important for businesses today than ever before. The following post discusses the changes that the coronavirus has caused to the way people search online and how businesses can keep up.
The New Normal for SEO?
COVID-19 has changed the way we think, live, socialise, work, shop, and do business. As cities were locked down, physical store visits in the United States dropped by 90% and mobile search traffic declined by nearly 25%. Online shopping, however, skyrocketed and surpassed the levels recorded during the 2019 holiday season.
As businesses around the world gradually reopen and some semblance of normalcy returns, consumers are expected to continue shopping online at a higher rate than they did before the pandemic.
For small business owners, the writing is on the wall. They need to optimise their online presence for the emerging search patterns to drive more traffic to their websites and keep growing through the pandemic.
Here's a simple guide to using SEO to drive more traffic to your website during (and in the wake of) the COVID-19 pandemic.
Discover Breakaway New Search Trends
Google Trends is your first destination in the search for new trends during the pandemic, recently revealing its top search trends during COVID-19.
As you may expect, coronavirus related searches dominated all other searches by a huge margin during the first two months of the pandemic, before subsiding to fall below the level of weather and news searches around May 2020.
Interest in 'face mask', another obvious trend, peaked in April and was still 500% higher than pre-COVID trends, at the time of writing.
Unfortunately, the most obvious trends are also the hardest to rank, as shown by this AHREFS analysis of the search term 'face masks'.

As a small business owner, you need to dive deeper and look for new 'breakout' trends in your industry.
For example, the interest in the search term 'how to look good on Zoom' went from 1 to 100 between February and April. It's a very relevant search term for health and beauty, apparel and fashion businesses.
Looking at the search engine results page, we can see brands such as Esquire and Cosmopolitan are already taking advantage of the new search phrase.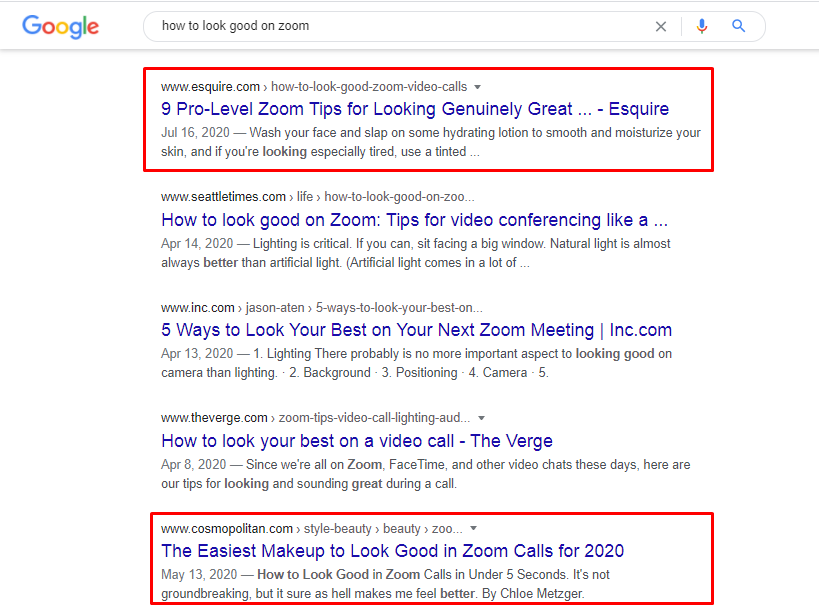 Esquire and Cosmo are major publications, yes. But if you look at the results for the search phrase 'how to look after your skin in lockdown', you'll see Kam Hair and Body Spa, a relatively small brand, claiming a spot on the first page.
This is just an example of how you can target the latest COVID-related SEO trends. Here are a few other trending topics to get you started:
Small business loans
Patio furniture
Outdoor furniture
Online games
Grocery delivery
Home gym
Board games
Gardening
Tutorials
Peel masks
Contactless delivery
Food takeout
Curbside pickup
Bicycle
Online counseling
Baking
Apart from Google Trends, there's another online tool called Exploding Topics that you can use to explore exploding trends related to any particular topic. For example, searching for beauty-related topics reveals that use of the keyword 'maskne' has grown 8,600% over the last six months. Maskne is a type of acne caused by prolonged wearing of masks.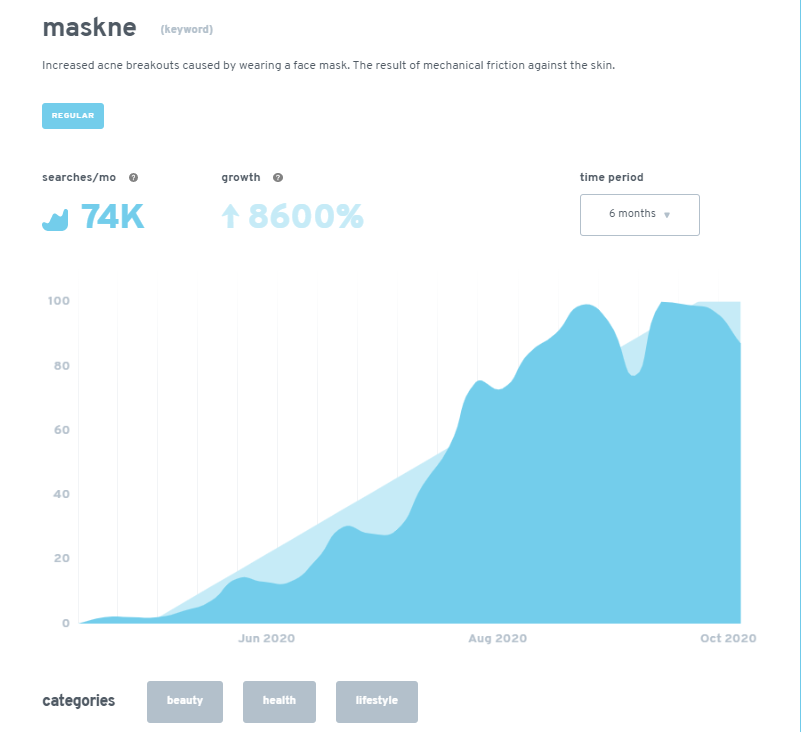 Find New Keywords Related to Trends
After you have discovered a few trending topics or keywords related to your business using Google Trends and Exploding Topics, the next step is to find high-volume and low-competition keywords for optimising your website and content.
You can simply use Google Keyword Planner. Or, if you can afford to spend some money, use one of the paid tools such as AHREFS, WordStream or MOZ for your keyword research.
Paid tools can indicate which particular trend-related keywords are easiest to rank. AHREFS tells us that the key phrase 'contactless delivery' has a high volume (5.2K monthly searches) but also a high keyword difficulty (39). By comparison, 'contactless pizza delivery' is easier to rank, although it is much more specific.

Keep in mind that keyword research tools can lag behind trend analysis tools because research tools gather data for a few days or weeks before displaying statistics for a new keyword, whereas Google Trends and Exploding Topics show the trends in real time. Don't be alarmed if you don't find keywords related to an exploding trend. Use your best judgment to translate trends into relevant keywords for your business.
Create New Content and Re-optimise Old Content
Now that you have your trending keywords nicely sorted and listed, you can start writing new content. Follow the SEO best practices such as:
Put the keywords in page titles
Write engaging and relevant content
Sprinkle keywords around the content
Put keywords in headlines, particularly H1 and H2s
Optimise each page or post for only one or two keywords
Acquire backlinks by promoting the content or through guest blogging on high-authority sites
Also optimise old content by inserting internal links to COVID-related content. Enrich your offerings by providing at-home SEO services in Melbourne and contactless deliveries.
Take another look at your website and analyse the work flow and structure. Make changes to the navigation and site hierarchy if required.
Optimise for 'at home' and 'open now' Searches
The interest level in 'open now' and 'at home' searches in Australia peaked during the lockdown in March. The number of searches subsided after businesses started reopening. But it's spiking again after a second wave of the pandemic has triggered fresh lockdowns.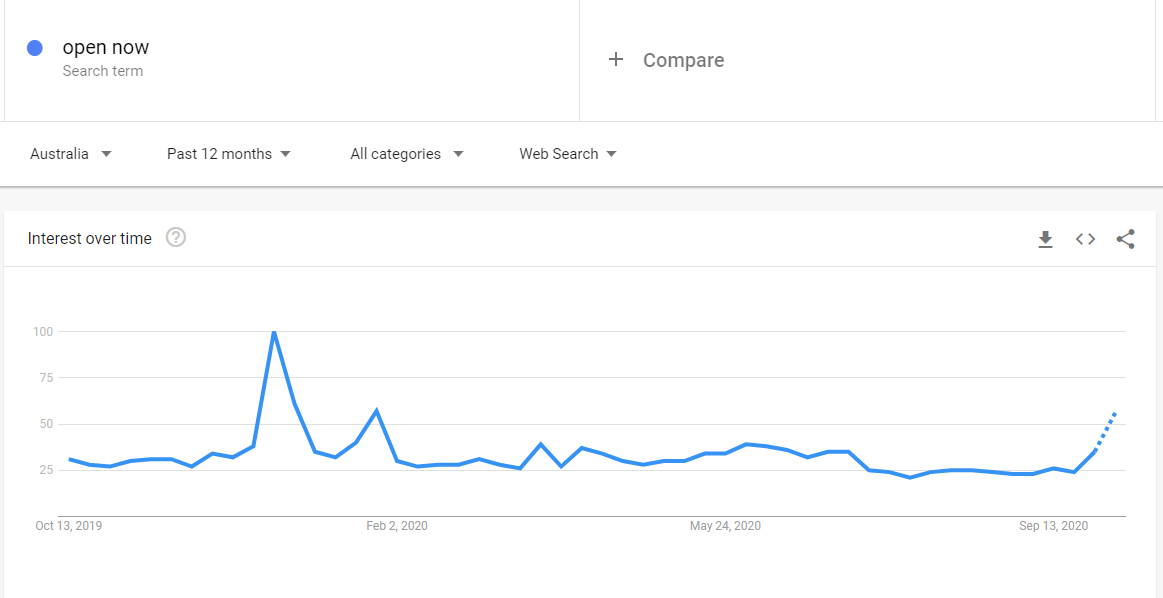 Create Evergreen Content
Pandemics and trends can come and go, but an evergreen piece of content continues driving traffic to your website for years.
Don't focus too narrowly on the coronavirus related keywords. Select topics that can be used to write high-value, long-term content.
For example, 'President Trump testing positive for COVID-19' may be a breakout search trend, but a blog post on that topic may fizzle out in a week.
Instead, a post on world leaders and their illnesses that include President Trump is likely to last much longer, as far as driving traffic is concerned.
Key Takeaways
The coronavirus pandemic has triggered new trends and introduced explosive new online search terms. SEO is more important than ever for small businesses to bigger SEO companies in Melbourne that want to survive and thrive through COVID-19.
As a Digital Marketing Agency in Melbourne, you can use Google Trends and Explosive Topics to discover the hottest trends in your industry.
Translate the trends into keywords by using your intuition, brainstorming with colleagues, or using a keyword research tool.
Create evergreen content around low-difficulty, high-volume keywords. Also re-optimise old but popular content for the new keywords.
Remember that new trends can explode overnight and old trends can fade away over time. Keep an eye on the latest trends, stay on top of Google searches, and, of course, stay safe!