eMarket Experts Listed on AFR Fast 100 – Growing IT Companies 2020
We're proud to announce that eMarket Experts has been named in The Australian Financial Review's Fast 100 for 2020.
For 30 years, the AFR's Fast 100 and Fast Starters lists have celebrated the who's who of Australia's fastest growing businesses. And we're honoured to be in such good company.
This year, eMarket Experts ranked at number 60, with compound annual revenue growth of 46% over the past four years.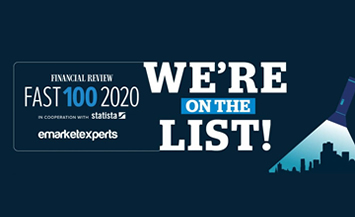 Rashesh Shah, CEO of eMarket Experts, attributes the ongoing success to the eMarket team. "Without our fantastic team of digital experts and their drive to deliver quality, measurable results for our clients, we wouldn't be on this list."
Our ongoing growth is a testament to our long-term strategic partnerships with our clients. By working with our clients to improve their online visibility and enhance their digital footprint, we are helping them to grow.
"Our success is linked to our clients' success," said Rashesh Shah, "and what's good for our clients is good for us. It's great to see the AFR recognising that."
This achievement is an opportunity to reflect on how far we've come in such a short time. Only three years ago, eMarket Experts was a fledgeling start-up ranked 80th in the AFR Fast Starters list.
Since then, we've gone from strength to strength, expanding our team, growing our list of satisfied clients and firmly establishing ourselves as one of Melbourne's premier digital agencies.
While 2020 is shaping up to be a challenging year for businesses across Australia (and around the world), it's great to know that we're well positioned to meet this challenge and to help our partners work through this difficult period.