How Artificial Intelligence Is Changing The Face Of SEO
Can Machines Do SEO?
The short answer is yes. It's already happening. Machines or computers running the latest artificial intelligence (AI) software can not only do SEO, they can do it better than many SEO Companies In Melbourne that haven't updated their optimisation process to accommodate the effects of AI.
According to a recent survey of 2,360 businesses conducted by McKinsey & Company, 40% of the respondents said their companies had experienced a revenue increase of 6% to 10% or more as a result of AI adoption in marketing and sales.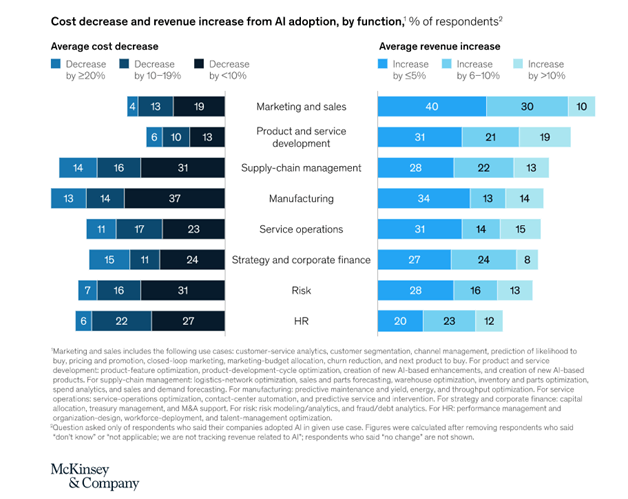 Right now, companies are using AI for a myriad of sales and marketing activities including customer segmentation, channel management, pricing and promotion, budget allocation, churn reduction and for search engine optimisation.
How AI is Changing SEO?
AI loves data. It can extract data at scale in real-time and learn from that data to improve itself at an incredible speed. To give you an example: in 24 hours after it went live, Google's Neural Machine Translation system accomplished a greater efficiency in understanding language than humans did in ten years!
So, how does AI impact SEO?
SEO is about data and analytics and numbers. It's about knowing which particular keywords, regions, devices, and user intents drive your traffic. It's about giving users the right content so they stay on your page and don't bounce away. At the end of the day, the best SEO Services In Melbourne are about providing a personalised user experience. A human cannot analyse all that data and tailor user experience for your customers in real-time. AI can.
Here are a few areas of SEO that AI looks ready to transform, forever.
Content Strategy and Optimisation
Search engines use AI to find out the user intent behind searches and find the most relevant content to display. So can you. Machines can help you understand the type of content your visitors want so you can figure out ways to provide it. AI-based SEO tools like Frase can help you align content with user intent, rank higher on Google and optimise content for voice searches.
Automation of Repetitive Tasks
AI, or more specifically machine learning (ML), can help save tons of time by automating tasks such as keyword research, technical SEO, content SEO, content distribution and internal linking. This gives human SEO teams more time to focus on intent-based content creation, which now seems to be the only way to drive traffic.
Voice Searches
With the advancements in natural language processing (NLP), the numbers of voice searches are skyrocketing. An increasing number of users are using voice assistants to look for the products they need. Voice search for shopping is forecast to become a $40 billion industry by 2022. So, if you're still not optimising content for voice queries, you might need to catch up.
Link Building
AI cannot build links for you, but it can gauge the quality of your external link and find out if they are natural or spam. Companies need to be more discreet while building incoming links to their content. Make sure they're not coming in from low-quality or irrelevant domains. Google's AI will be able to spot manipulative links in a blink and will penalise your site if it smells anything fishy.
Topic Discovery and Keyword Research
Human optimisers seldom care to get down to the bottom of the keyword list and analyse each and every single keyword that they can target. They also don't have the time to incorporate all of the keywords, including voice queries, into the on-site and off-site content. AI can analyse thousands of keywords and optimise hundreds of pages in a fraction of the time it takes a human to do the work. AI tools such as Concured, and Crayon can help you discover trending topics, keywords, and customer intent.
Data Unification
This is the age of digitisation. Companies of all shapes and sizes are trying to digitally transform their processes to incorporate customer intent at every step. For example, the knowledge of the keywords that people are using to look for products and services can help development teams come up with new product or service ideas. However, data is trapped in silos and cannot be accessed and analysed across all departments. AI tools can unify data from multiple domains, understand it, and translate it into actionable insights for use by inter-departmental teams.
The Way Forward for AI and SEO
According to a study by the Economist, 75% of executives say AI will be actively implemented in their companies within the next three years. The best Digital Marketing Agencies In Melbourne are already embracing AI to turbocharge their SEO services. Make sure you're not left behind!