EME Brings Home the Gold at the 2021 SEMRush Search Awards
So, big news. We're super excited to announce that
eMarket Experts
has taken home our first prize 🏆 in the
2021 SEMRush Search Awards
!
We are extremely pleased to have landed the prize in the Best Low Budget Campaign category for our work with
Europe Trailers
.
The awards were announced on November 9 in a COVID-friendly
online presentation ceremony
.
"This winning campaign displayed some great work in a niche area," said awards judge Matt Depoortere. "They provided a really good explanation of the work that they have done, which proved to be a lot within the budget. The strategy and implementation was impressive."
Despite the budget constraints, we were able to deliver big results for Europe Trailers. Over a 12-month period we:
Grew the client's website traffic by almost 30%
Increased inbound phone calls and website queries by almost 50%
Got 10 of our locally focused keywords in top-two positions in Google SERPs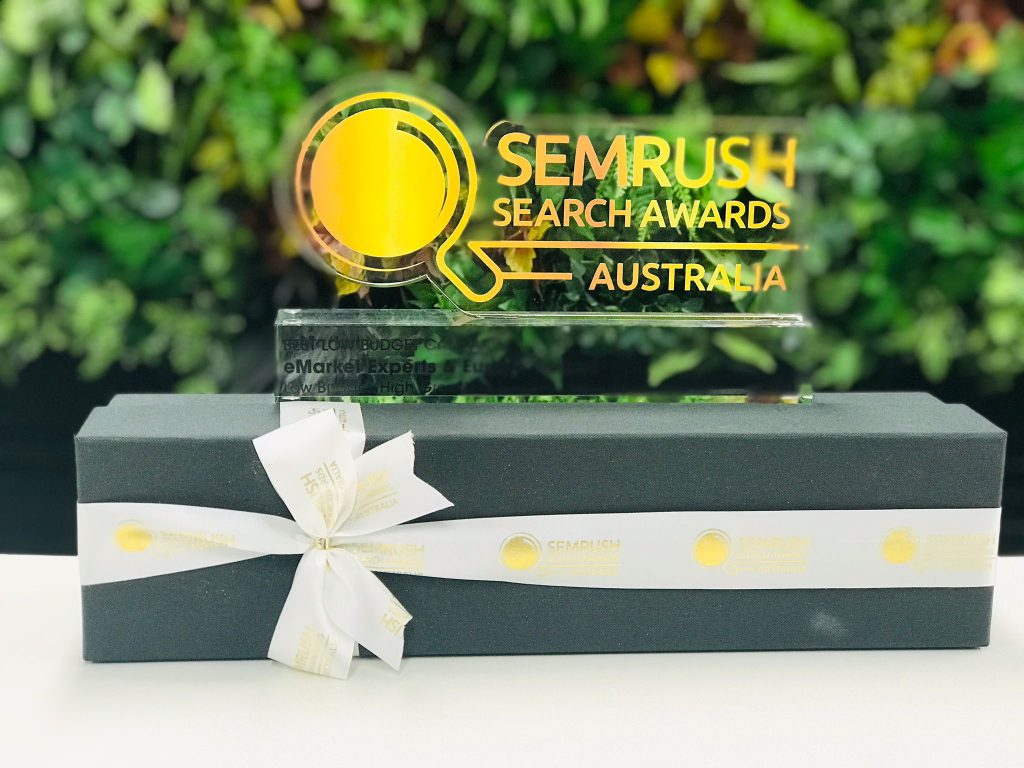 We were honoured to be shortlisted among so many other great
Australian digital agencies
.  The award is fantastic industry recognition and a clear demonstration of the measurable results and substantial ROI we are able to achieve for our clients, even on a limited budget.
The SEMRush Search Awards are among the industry's most prestigious prizes. The awards celebrate the success of online marketing professionals in the Australian marketplace and identify the best practices, companies, professionals, and communities within the marketing industry and offer well-deserved recognition for outstanding performance.
SEMRush itself is an industry leader in technical SEO and the awards are judged by a panel of technical experts who are widely respected throughout the industry.
When assessing award entries, the SEMRush judges look for clear campaign objectives, a strategy tailored to a clearly identified target audience, creative and effective implementation, and tangible and demonstrable results.
Besides winning the 2021 Best Low Budget Campaign for Europe Trailers, we were also shortlisted in
two other categories
in 2021 (Highest Website Visitor Growth and Best Local Campaign) and shortlisted for three awards in 2020 (Best Local Campaign, Best Integrated Campaign, and Best Advertising Campaign).
As one of Australia's fastest growing and most awarded digital agencies, the 2021 SEMRush award joins a range of other awards in the eMarket trophy room. These include:
CRN Fast 50 – 2018 & 2019
Deloitte Technology Fast 500 – 2017 & 2018
Australian Financial Review Fast Starter – 2017
Australian Financial Review Fast 100 – 2020
Financial Times High Growth Company – 2020
Optus My Business Awards – 2017 (Finalist)
We'd like to say a big thank you to SEMRush 🙏 and their judging team and to the entire eMarket team 🙏 for all the great work on the Europe Trailers project and across all our projects. And, of course, we like to extend a warm thank you to all our clients!