eMarket Experts in The Final Race for The Optus My Business Awards 2017
eMarket Experts has been shortlisted as one of the finalists for the prestigious Optus My Business Awards 2017, one of Australia's longest-standing business awards program. eMarket Experts is a finalist in the category for Information and Communications Technology (ICT) Business of the Year.
Founded in 2014, eMarket Experts is a local SEO and Digital Marketing Agency that specialises in performance-based SEO, online advertising, social media marketing, website hosting and design to the small and medium businesses.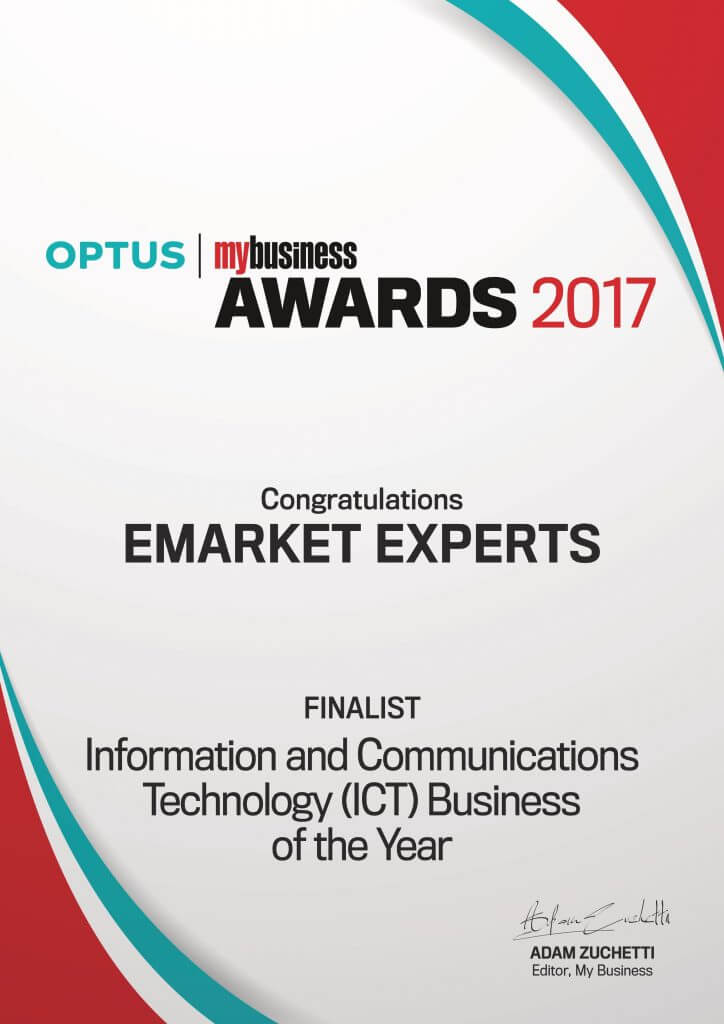 Optus My Business Awards 2017 Finalist Certificate
Rashesh Shah, CEO of eMarket Experts, said "As a growing company, we're thrilled that our efforts have been recognised at national and international level. We have always strived to help businesses get more recognition and sales through our services and will continue to do that. It is an absolute delight to be recognised by Optus My Business Awards and see our name in the nominations, next to some of the most prestigious companies in Australia."
eMarket Experts is humbled by the nomination and recognition for its excellent contribution to the online marketing community. Earlier in 2016, eMarket Experts was ranked 29th fastest-growing tech companies in the Deloitte Technology Fast 500 Asia Pacific list.
Optus My Business Awards is a premier event of the year for SMEs and covers 28 categories, acknowledges best practice within a particular industry sector, as well as individual business leaders, excellence in customer service and achievements in innovation, corporate social responsibility and workplace culture.
Adam Zuchetti, the editor of My Business, said: "Australian SMEs are at the leading edge of innovation and customer service excellence, as represented by this year's Optus My Business Awards finalists."
"My Business is extremely proud to showcase those companies and their leaders that are thriving by pushing the boundaries and challenging the status quo across a diverse spectrum of industries," Mr Zuchetti said.
"Determining this year's finalists was no easy feat, with our selection panel working through an outstanding calibre of entries and the highest submission rate for the awards to date. On behalf of the My Business team, I would like to congratulate all of this year's finalists and wish them the best of luck for the big night," Mr Zuchetti said.
The winners will be announced at a black-tie awards dinner on Friday, 10 November at The Westin Sydney.